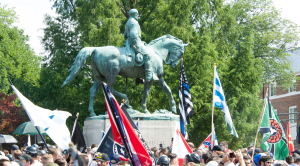 The Civil War ended 154 years ago. The Confederacy, as former New Orleans Mayor Mitch Landrieu has said, was on the wrong side of humanity. Our public entities should no longer play a role in distorting history by honoring a secessionist government that waged war against the United States to preserve white supremacy and the enslavement of millions of people.
In an updated edition of the 2016 report Whose Heritage?, the SPLC identifies 114 Confederate symbols that have been removed since the Charleston attack — and 1,747 that still stand.
It's past time for the South – and the rest of the nation – to bury the myth of the Lost Cause once and for all.