As a law office, the Equal Justice Initiative has been dedicated to representing clients sentenced to death and condemned to die in prison, challenging inhumane conditions of confinement, and working to expose racial bias in the criminal justice system for more than 30 years. This work has provided a first-hand view of the many ways our nation's current era of mass incarceration is deeply rooted in America's history of racial injustice, and has inspired us to launch a project documenting and memorializing the eras of enslavement, racial terror lynching, and segregation.
That project has yielded research and public education materials including reports and brochures, videos, interactive websites on the history of racial terror lynching and segregation, and the annual A History of Racial Injustice calendar, along with groundbreaking sites of memorialization opened in Montgomery, Alabama, in April 2018:  the Legacy Museum: From Enslavement to Mass Incarceration, and the National Memorial for Peace and Justice. In addition to these sites, EJI also opened the Peace and Justice Memorial Center, which features a memorial dedicated to victims of racial terror violence in the 1950s, and the Legacy Pavilion, which includes a monument to Black victims of racial terror violence in the immediate aftermath of the Civil War and during Reconstruction.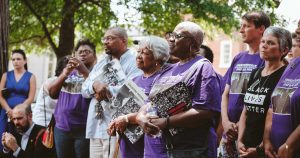 We also believe it is critical for communities across the country to do the difficult work of unearthing and confronting their own histories of racial injustice, while exploring how that history continues to shape the present. We are honored to share our research findings and support community memorialization work through the Community Remembrance Project.
EJI's Community Remembrance Project partners with community coalitions to memorialize documented victims of racial violence throughout history and foster meaningful dialogue about race and justice today. The Community Soil Collection Project gathers soil at lynching sites for display in haunting exhibits bearing victims' names. The Historical Marker Project erects narrative markers in public locations describing the devastating violence, today widely unknown, that once took place in these locations. These projects and the other engagement efforts that community coalitions develop, center the African American experience of racial injustice, empower African American community members who have directly borne this trauma, and invite the entire community to use truth to give voice to those experiences and expose their legacies.